OMN VS MUM Dream11 Prediction: Oman VS Mumbai – One-day Dream 11 Prediction- Match Details, Rosters, Head to Head, Key Players, Probable Winners.

4

min read
OMN VS MUM Dream11 Prediction
Introduction
With Oman qualifying for the T20 world cup, they are set to make a name in international cricket. In order to test their squad, they organized 3 T20s and One-days unofficial matches.
Post the T20 series which ended up in a 2-1 victory for Oman, we now move on to the One-day format. Mumbai as a team has been looking considerably weak when it comes to their batting. few names in the likes of Yashasvi Jaiswal have contributed but failed to come out to the winning side. On the flip side, the bowling department has been eye-catching. In low-scoring matches of 131 and 133 respectively, the bowlers almost pulled off the victories. For Oman as a team, the players look pretty confident. They managed to win the series decider and will look on to continue this winning streak in the One-day matches. We have been assured an interesting match with numerous youngsters putting their skills to practical use on a big stage.
OMN VS MUM: Match Details
Match Name: Oman VS Mumbai One-Day
Date: 2nd September 2021
Time: 10 AM (IST)
Venue:

Al Amerat Cricket Ground Oman Cricket (Ministry Turf 1), Oman
OMN VS MUM Dream11 Prediction: Pitch Report
The Al Amerat Cricket Ground Oman Cricket (Ministry Turf 1), Oman, is usually considered to have a pitch that favors the bowlers. The total of 4 matches that have been played on this turf has ended up in very low scores which adds to the fact. This pitch generally favors medium pacers however there is some turn to offer. The batsmen have to be relatively watchful for the movement in the air. 
OMN VS MUM: Head to Head
As far as One-Days are concerned, the 1st one-day will be the first-ever one day between these two sides.
OMN VS MUM Dream11 Prediction: Rosters
Oman: Aaqib Ilyas (c), Jatinder Singh, Khawar Ali, Sufiyan Mehmood, Mohammad Nadeem, Zeeshan Maqsood, Sandeep Goud, Naseem Khushi (wk), Kaleemullah, Ayaan Khan, Bilal Khan.
Mumbai: Yashasvi Jaiswal, Aakarshit Gomel, Sujit Nayak, Arman Jaffer, Hardik Tamore (wk), Shams Mulani (c), Aman Khan, Sairaj Patil, Akash Parkar, Dhrumil Matkar, Mohit Avasthi.
OMN VS MUM Dream11 Prediction: Key Players
Mumbai:
Yashasvi Jaiswal: The young left-handed batsman quickly made a name for himself after displaying his skills in the U-19 world up and IPL. The 19-Year-old is a prime example of "from rags to riches" and looks forward to playing for the Indian National Cricket team sometime in the future. In the ongoing matches against Oman, Jaiswal has looked in great touch and had contributed a match-winning 75 run knock in the 2nd T20. As an opener, there lies a great responsibility on his shoulders to give a cemented strat for the team to capitalize on. So far, he has been able to live up to the standards and therefore considered to be one of the key players for the side.
Shams Mulani: The 24-year-old has been one of the biggest contributors. He was the joint leading wicket-taker alongside Aaqib Ilyas taking 6 wickets and was decent with the bat too. His performances in this tournament will be considered watchful and if he is able to deliver, a big opportunity to play at an even bigger stage awaits for this young all-rounder.
Oman:
Aaqib Ilyas: The 28-year-old Omani cricketer has been one of the strongest pillars of the team. As an allrounder, he is a right-handed batsman and right-arm off-break bowler. In the ongoing series, he was one of the leading wicket-takers taking 6 wickets against a side that includes big names like Yashashvi Jaiswal. The player also contributed a handy 39 runs and helped the side win the T20 format.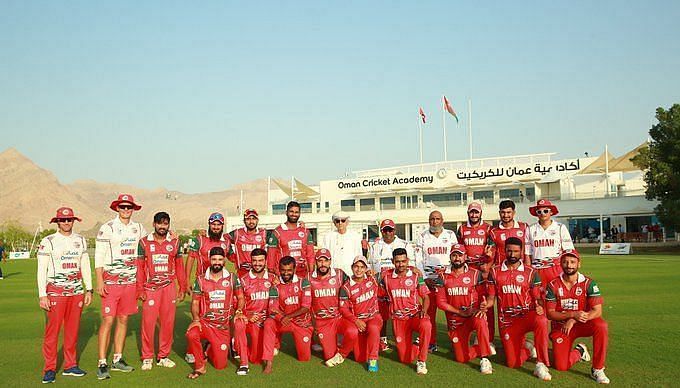 OMN VS MUM Dream11 Prediction: Probable Winner
Considering the pitch report, Mumbai seems to be a much dominating side as they were able to cause troubles in low-scoring T20 Matches for the Omani side. The squad for Mumbai brings with it ample experience in the longer format of the game. Therefore, we predict Mumbai to win this upcoming encounter.
Also Read – HD VS PT Dream11 Prediction: HOUSTON DYNAMO vs PORTLAND TIMBERS – Major Soccer League
Disclaimer: All the above-mentioned information is based on the NextMatchPrediction expert's analysis and understanding from various News and Sources. You can make your own dream11 team on the basis of our [OMN VS MUM] Team News and Analysis.
Please follow and like us: